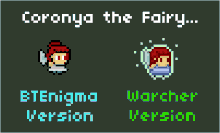 Coronya is a fairy who acted as a support character on Black Tower Enigma and Warcher Defenders.
Coronya story
Fairies have always existed. After the Pollination a lot of them were born; the smartest, hardest working and most beautiful from the prettiest flowers.
From the oldest, most beautiful and colorful tulip of Baran, a fairy as bright as the Sun was born. She was the most beautiful of all fairies; she had enchanting eyes, her voice was soft, and she had a heart-warming smile. Nobody knew her name until a legendary old woman met her and called her Coronya, after an old spirit she once knew.
As a child, Coronya liked to draw figures with pollen from flowers. She knew many songs and animals liked to hear her sing. There has never been a happier fairy.
Over time she learned all crafts and all songs that existed; she was very wise, noble, full of love and virtuous. She is Coronya, the fairy of peace.
(*Story taken from Warcher Defenders)
*NOTE: Article not finished, updating soon...